The Largest Range of Gel Burners, Gel Fireplaces, Gel, Candle Holder,Tea Warmer and Flower Vase

Tips of Gel Burner From LD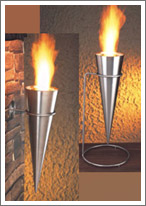 LD LIFESTYLE presents a unique collection of candle holders, tea warmers, flower vases and other lifestyle products. All metals used in LD LIFESTYLE products are of the highest quality and each piece must pass a high quality check.

LD lifestyle, as the leading company in doing gel fires, keeps offering you the best and most reliable source for gel burners, gel fireplaces and gel. All of our gel burners come with comprehensive operating and safety instructions. If you are interested in more products and information,please feel free to contact us..

LD Lifestyle Co. Ltd
21E HuaZhe Building, No.1 HuaZhe Plaza, Hangzhou, China
TEL: +86 13735886608 +86 571 86625753
FAX: +86 571 81634791
E-mail: sales@ldlifestyle.com
Web: www.ldlifestyle.com


Gel Burners from LD lifestyle use 0.5L Tins of Fire Gel. We do not recommend the gel to be poured directly in to the fire burner as this would prevent air circulation and may cause combustion. The gel should be poured in to 0.5 Litre tin and then placed in the fire burner reservoir. A 0.5L tin will be required initially, this can then be refilled as and when required. Our Gel burner comes with comprehensive operating and safety instructions.

LD Lifestyle gel burner is for indoor and outdoor use. Available in ultra-modern stainless steel, elegant porcelain and cool pottery, the collection offers a choice of contemporary designs to provide a striking range of lovely gel burner (fire burner) for any interior living space.
The unique portability of the gel burner (fire burner) makes it possible that they can be easily lifted and moved from room to room, or even to an outdoor setting. LD fire burner makes ...